My publisher sent me the cover concept for my book, The Write Escape.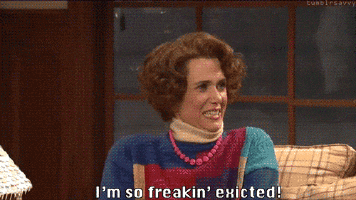 Oh god, I wish I could show it to you guys, but I know the rules. There has to be flourish and whatnot. I can dig that. But I will say, this is an excellent representation of my characters Antonia and Aiden. They look adorable and in love!
I was at work, sitting in a drab office, when I got the email from Carina Press. The first person I showed it to was my husband, who's office is just around the corner and down the hall. When he started flipping out, shouting "THIS IS REAL!!" I realized he was right: this was indeed real.
I mean, it was real before, but in a busy, esoteric way. I knew everything was solidified: contracts were signed, edits were already in progress, and deadlines were set. But I still think of the debut of my first novel as "a thing out there." While I work on the book and meet the deadlines, I keep a clinical distance from the joy and excitement the creative process.
This is all neurotic behavior, of course. I've always been the kind person who anticipates disappointment around the corner. If you're a creative, an academic, or a woman of color, you know what I'm talking about (God help you, if you're all three). You know you have to work really hard for the things you want, and when you get them the victories don't feel deserved because you're wondering when someone's going to find out you're a fraud (I'm only describing Impostor Syndrome). WHEW! I'm also nervous about resting on my laurels. If I'm not working on something, I'm bummed out. If I've successfully completed something, I ask myself, "Okay? So what's next?"
Anyway, my husband saw all of those emotions on my face and told me to snap out of it. He made me print off the cover concept and hang one copy in my office. The other is at home on the fridge. So now as I sit here typing this, I can look to my right and remember that this is real. This is something to celebrate. Every time I grab something from the fridge, I'm reminded, "Hey, you did that. Pat yourself on the back and drink more water."
Like I said, when my publisher finalizes everything. I can share it with you and we'll all jump around in glee, while I tell myself, "This is real. This is real. This is real."